I feel the night explode
When we're together...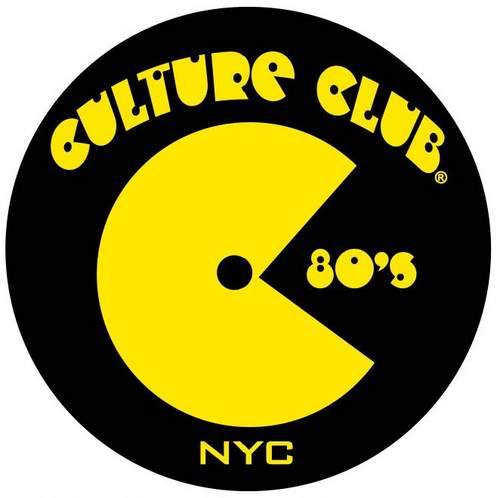 Last night, I ventured into NYC to celebrate my friend Eric's birthday. The party was taking place at Culture Club, an 80's themed nightclub that I've somehow managed to miss during the many years it's been around. Several of my friends who'd been there told me that it was going to be a lot of fun, and boy was it! I tell ya, the 80's was a great decade for music and pop culture in general, and this place featured it all.
It's really too bad that a lot of people, for one reason or another, couldn't make it, because the night would have been that much more fun. In all there were four of us, Eric, me, and Tom and Daved, and we had a blast taking it all in. The place is very kitschy, and it covers the 80's in a variety of ways, with 80's pop culture decor in every corner of the space...movie posters, iconic figures painted on walls, Ferris Beuller's Day Off playing on a video screen, drinks named after 80's figures, and of course awesome 80's music.
The only negative thing I could have said going into the place was that it is a straight club. But it is New York City and....well, somewhere during the evening, Tom said it best: You know, this is what I love about New York City. There's all different kinds of people.
And no one judges! I added.
It's true. Being in the city that never sleeps is as anonymous as it gets. You see all types of people all the time, so none of it is a big deal to anybody. And so we danced, the four of us. We danced to all kinds of 80's music, and even some tunes on the fringes of the decade, both before and after. There was 80's metal rock, early 80's leftover disco, freestyle, dance/rap (This is How We Do It), music from 80's icons like Madonna, Prince and Michael Jackson, and some good old fashioned 80's dance music, which bring us to our Song of the Day.
One of my favorite songs that we danced to last night was Taylor Dayne's Tell It To My Heart. This Long Island gal packed some voice, and with classic, fast moving 80's style dance beats, this one is a bona fide classic. So if you spent your formative years during the great decade of the 80's like I was, then click play and relive a fond memory or two...